The National Weather Service (NWS) alerted Utah residents on Friday that they could see and smell the effects of wildfires raging in central Idaho and other fires as far as 500 miles away. NWS Salt Lake tweeted about a "campfire smell" being noticeable during the morning in Utah and Wyoming.
Fire, Weather & Avalanche Center reported the Moose Fire as the largest in Idaho. Northwest of Salmon, Idaho, the fire has consumed more than 125,000 acres since being reported a month ago. NWS Salt Lake Meteorologist Sam Webber told Newsweek that much of the smoke seen in Utah is from that fire.
Some of the smoke reported in Utah has traveled from fires in Oregon as well, but Webber said most of the smoke residents are seeing is from the central Idaho fires, which are roughly 250 to 300 miles away.
"It's traveled a decent amount of time to get here," he said.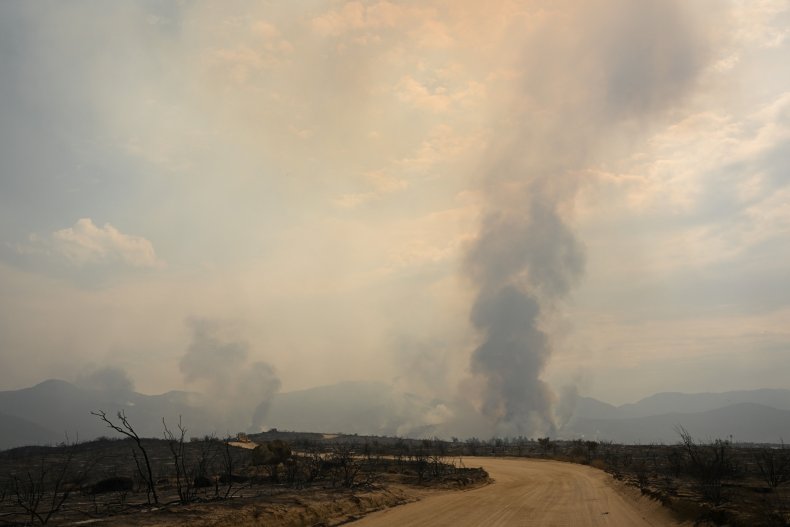 Webber said the NWS uses weather models that examine fire behavior and smoke outputs. The models learn how much smoke a fire could potentially produce and simulates that smoke with wind to see how it might disperse through the atmosphere. A cold front recently moved through Utah, backed by winds, and Webber said that is likely why residents are seeing smoke.
"Yesterday with the cold front, we just had a sharp increase in density of smoke through the atmosphere behind that cold front because of all the winds from the north," Webber said.
The first reports of smoke sightings began Thursday night. The NWS tweeted that residents will likely experience the smoke through Sunday.
"You can see it and you can smell it," Webber told Newsweek. "It's reducing visibility in some areas. You walk outside and you can tell it's really hazy out, especially with the sun angle at this area. Unfortunately it's a smoky weekend to come."
Webber said the NWS can't address the health aspects of smoke exposure, but the Utah Department of Air Quality released an alert on Twitter for Box Elder, Cache, Davis, Salt Lake, Tooele, Utah and Weber counties that smoke was in the "unhealthy for sensitive groups" category Friday morning.
A page on its website said to protect from wildfire exposure, people should reduce their activity outdoors, have enough food and medication on hand for several days, close windows and vents, run air conditioners on recirculate mode and stay up to date on air quality alerts.
READ MORE
Webber told Newsweek that smoke infiltrates the atmosphere differently than other pollutants, such as those caused by winter inversion. A story about winter inversions on the Tooele County Health Department's website said they are particularly common in Utah. Inversions occur when normal atmospheric conditions are inverted, trapping a dense layer of cold air under a layer of warm air.
"The warm layer acts much like a lid, trapping pollutants in the cold air near the valley floor," the website said.
Webber said residents escape the pollutants by traveling to the mountains during winter inversions, but the same tactic can't be used to escape pollutants from smoke. Webber said traveling to the mountains could worsen the smoke a resident is exposed to.
"Smoke is a lot different. It disperses into the whole atmosphere," Webber said. "With smoke, you're kind of stuck with it throughout the atmosphere."