Jennifer Lawrence has shared a "quintessentially Robert De Niro" story about the actor and his somewhat blunt exit from her wedding rehearsal dinner.
The Oscar-winner revealed that, while her three-time co-star Robert De Niro, 79, is the "sweetest man in the world," he made a break for the door during the event in 2019.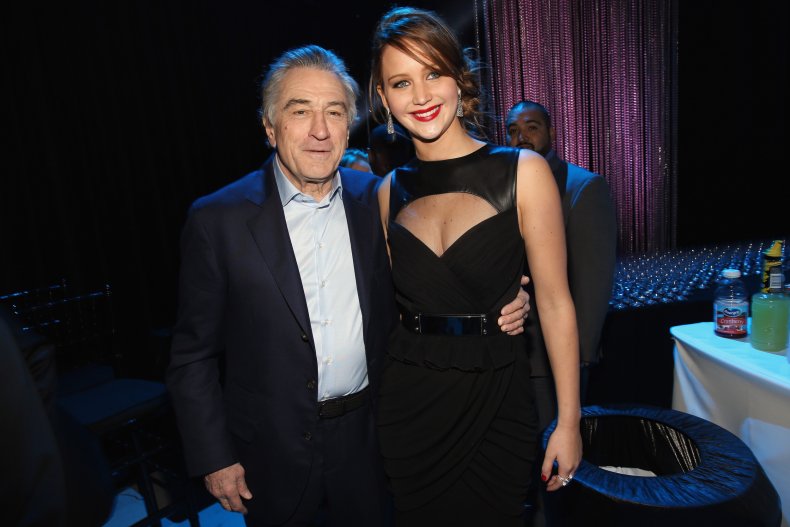 "Can you share with me your all-time favorite, quintessentially Robert De Niro, Robert De Niro story?" the 32-year-old was asked during an appearance on Vogue's 73 Questions series.
"He's amazing on set," she said of De Niro. "He's just the sweetest man in the world—still very intimidating."
The Hunger Games star went on to say that she invited him to her rehearsal dinner for her wedding "obviously expecting him not to come."
Lawrence said: "And when he came, I said, 'Bob, you really don't have to be here. You can go home.'"
The actress and mother-of-one said that, to her surprise, the Taxi Driver star took her up on her offer and fled.
"And he was like, 'Thank you so much,' and left," Lawrence said.
The actress married Cooke Maroney, an art-gallery director, in 2019, and the couple welcomed their first child together in February 2022.
"We wanted to commit fully. He's my best friend, so I want to legally bind him to me forever. And, fortunately, the paperwork exists for such a thing. It's the greatest. You find your favorite person in the planet and you're like, 'You can't leave,'" Lawrence said on the Naked podcast of her decision to wed Maroney.
Lawrence and De Niro have starred alongside each other in three movies: Silver Linings Playbook, American Hustle and Joy.
The pair fawned over each other on stage at the 27th Annual GLAAD Media Awards in New York City back in 2016.
Lawrence presented De Niro with a trophy at the event and said: "Bob has asked me to present him with GLAAD's Excellence in Media Award because, in his words, I am like a daughter to him.
"And that transpires to our once-a-week drinks at the Greenwich Hotel, where I ask him advice on absolutely everything. And also when he gets drunk and pinches my cheek and says, 'You remind me of my little Helen' … who's 4."
READ MORE
Lawrence said: "His heart is so giving and, with his own quiet strength, it's no wonder that this man, and the incredible organization that is GLAAD, would come together tonight."
On accepting his award, De Niro said of Lawrence: "Thank you, Jen. If I were a lesbian, I'd be all over you.
"Being a father figure has its limitations. Jennifer Lawrence is not only a great actress, she's a respectful and loving friend."