Hundreds of emaciated sea turtles have stranded themselves on Texas shores, baffling state experts.
There has been a huge increase in the number of loggerhead sea turtles washing up on the Texas coast this year, the U.S. The Fish and Wildlife Service said in a statement.
Between April 1 and August 19 this year, 282 turtles washed up, most of them dead, in the coastal areas between Calhoun and Kleberg counties.
"This is more than twice the average annual number of loggerhead strandings recorded from 2012 to 2021, which was 109, and annual numbers have increased during this decade," Donna Shaver, Texas Coordinator of the Sea Turtle Stranding and Salvage Network (STSSN ), said in a statement. "This dramatic increase in loggerhead strandings this year is alarming and has STSSN participants on high alert in the Coastal Bend to be ready for the increased influx of incapacitated loggerheads needing immediate rescue and care."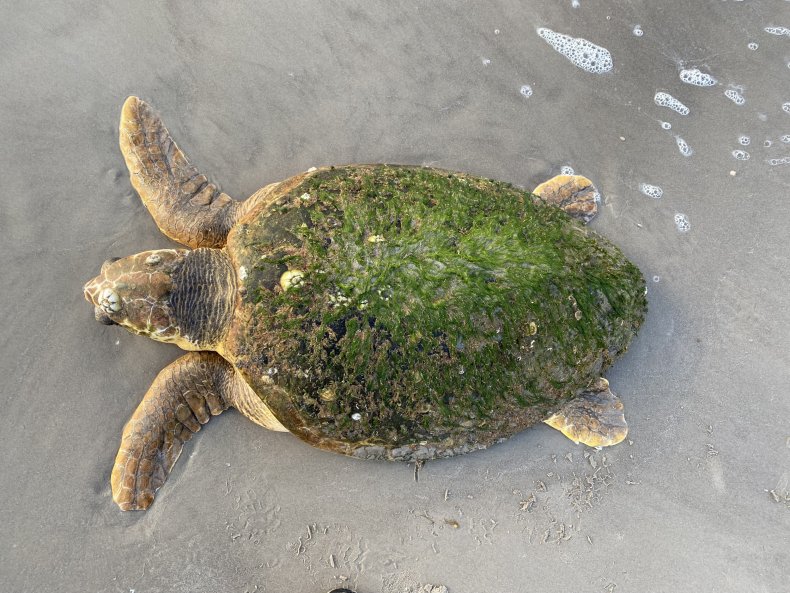 Loggerhead sea turtles are the most common sea turtle in U.S. waters, but numbers have been declining due to threats posed by commercial fishing gear. They live along the Gulf of Mexico, meaning they are occasionally spotted off the Texas coast. In this part of the world, they are listed as a threatened species.
Senior Outreach Coordinator Alicia Walker at the Amos Rehabilitation Keep told Kris TV: "I think one of the scariest parts, and most concerning parts, is this is still happening. We imagined that this was going to be short-lived, and we wouldn't still be seeing this increase in strandings."
Scientists are still trying to find the cause of the mysterious behavior after numerous necropsies ruled out any diseases, biotoxins, or injuries due to fishing gear.
Shaver said it's possible their habitat could be in decline. This could be down to a lack of prey and poor water quality.
Scientists will continue their evaluation of the dead turtles until they determine a cause.
Mary Kay Skoruppa, U.S. Fish and Wildlife Service Sea Turtle Coordinator for Texas, said in a statement that only one-third of the stranded loggerheads were found alive.
READ MORE
Skoruppa said those found alive are receiving care at rehabilitation facilities.
"The affected loggerheads have been found underweight and emaciated. They are receiving diligent care in rehabilitation, and we hope that most will recover and ultimately be released back into the Gulf of Mexico," Skoruppa said.
The U.S Fish and Wildlife Service is urging residents to report any stranded turtles they see.
Skoruppa said "it takes a lot of coordination" to rescue stranded sea turtles.
"It is therefore critical that citizens report their sightings immediately so that rescue efforts can begin quickly. Sometimes there are considerable travel distances to remote areas and other rescues may be happening at the same time, so we ask that people be patient after calling to report a stranded turtle," she said.
Sea turtles can usually survive out of water for about 8 hours. The animals can breathe outside of water and need land to lay their eggs. But if they are on land for too long they will dehydrate and die.
Newsweek has contacted the U.S. Fish and Wildlife Service for an update.